READ MORE: Top 10 Best Pillows for Neck Pain
1. Buckwheat Pillows
Our ancient ancestors in the Far East knew the magic of sleeping on buckwheat (Fagopyrum esculentum) pillows. Farmers in American provide all natural buckwheat for making the wonderful pillows from the buckwheat hull. The plants, related to rhubarb, are grown for its triangular grain-like seeds as an alternative to rice. It is not related to wheat and is gluten-free. Try some wonderful buckwheat pancakes after waking restful on your buckwheat pillows. You will get a good night's rest and sleep like a log with these. By removing or adding hulls, the loft of the pillow can be adjusted to support you low or high.
Pros
These pillows provide extreme support and pain relief for your neck.
Trapping heat in the pillow from the heat of your body and head is negligible.
This pillow supports your head keeping it from sinking for head and neck alignment.
Buckwheat hulls permit air circulation; back and side sleepers like these.
Allergies from buckwheat hulls are rare.
Cons
They can be too firm and heavy; stomach sleepers do not like the high firmness.
They can be too noisy.
Some find them too small.
To some degree, there is an odor.
They are expensive.
2. Down Pillows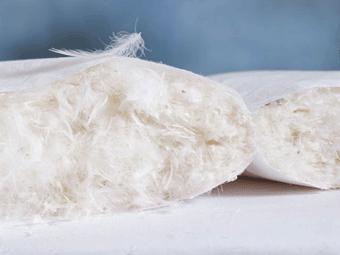 Native Americans used the soft down of birds for religious rites and thought the birds were sacred. For thousands of years people worldwide used down for insulation. Wonderful cuddly, moldable, and soft are the down pillows. They are not heavy and work in any sleep positon. Being warm and having no noise, down is the most comfortable and the most expensive. They last for years and are easy to care for at home. Down from ducks and geese can cause allergic reactions to those sensitive, but today there are hypoallergenic down pillows available.
Pros
The pillows are 75% down and 25% feathers.
Only 4% think down is hot from body heat.
Down pillows weigh about 2 pounds being buoyant and airy.
Above average for durability and long life.
Down pillows are softer with age; good for side, back, and stomach sleepers.
Cons
They do not have sufficient high-loft.
Slight odor; keep them clean.
Need to be fluffed up frequently.
They are expensive.
Down pillows are vulnerable to dust mites; dry clean or launder every 6 months.
3. Down Alternative/Gel Pillows
Filled with polyester puff fibers, down alternative pillows are an alternative to down pillows without having risks for allergy sufferers. They tend to be softer than firm, and are moldable and huggable. The loft can range from medium-low to high and this is dependent on the model selected. Your head can sink into the pillow significantly so a fluffing up is required to have the pillow be back to its initial form and shape. People sleeping on their backs are satisfied unless the loft is too low or high. Those sleeping on their stomachs are happy with the soft to medium firmness and loft that is medium to low.
Pros
Priced right for the value.
Compete well with down and feather pillows.
Airflow is good; back, stomach, and back sleepers like these.
Some are machine washable.
The alternatives weight about 2 pounds.
Cons
Some think they lack firm support.
Fair for durability and long life.
Can become lumpy.
Need to be fluffed up frequently.
Odors can be present but are not common.
4. Feather Pillows
Feather pillows are very well priced, are super moldable, and soft to cuddle. The feather quills might poke you, and they need to be fluffed to keep their loft. The pillows are filled with duck and geese feathers. The ratio of plumage under the outer feathers for great softness is 5 to 10% soft under-plumage to the regular feathers. Their lifespan is 25% more than the average pillow.
Pros
Feather pillows have superior durability.
Back sleepers like the feather pillows; good for back, stomach, and side sleepers.
Weight averages 1.5 to 2 pounds; 50% less than most pillows.
A heat trap by only 3% of the owners of feather pillows.
Feather pillows offer average relief from neck pain compared to others.
Cons
Insufficient support and loft.
Possible noise.
Potential for slight odor; keep them clean.
Feather pillows are vulnerable to dust mites; dry clean or launder every 6 months.
When compressed, feathers tend to flatten; they provide adequate support.
5. Latex Pillows
Relatively soft, latex is inclined to provide good support for pain relief and is soft and comfortable. The latex does not shift, develop concave spots or clump. Latex pillows tend to be soft yet supportive resulting in good pain relief and comfort potential. They have few complaints related to heat buildup. Durability and longevity tends to be above average. They have an elasticity and bounce and are heavier than other pillows. To clean, use lukewarm water and dish detergent to clean spots or all over. Rinse with cool water and allow the latex to dry at room temperature. Do not try to wash in the clothes washer—latex will tear apart.
Pros
Latex pillows are totally quiet; back, and side sleep supported.
Latex is mildew and anti-microbial resistant.
The pillows of latex have small holes and passages for ventilation.
Approximately 3% of owners state heat issues.
Latex never needs to be fluffed and are low maintenance.
Cons
Latex has a rubber odor (latex is made from rubber) or a chemical smell.
Latex pillows are somewhat pricey; stomach sleepers may find the loft too high.
About 10% report these pillows are heavy and thick.
A small number of people have latex allergies.
Dust mites do not eat latex but can live in latex eating dead skin cells.
6. Memory Foam Pillows
Memory foam pillows are supportive and soft. They provide average relief for neck pain and require little maintenance. Many varieties are available such as one-piece, shredded foam, contoured, and the customary type. You will slumber well with these.
Pros
Neck pain is decreased in 17% of people using memory foam pillows.
Contours to the head and neck well with great pressure relief; back and side sleepers best supported.
Shredded variety is best to cuddle more readily than the contoured or one-piece.
Spot clean the one-piece; the shredded variety can typically be machine-washed.
Shredded memory foam can be fluffed.
Cons
When brand new, there is a slight odor.
Firmness is too much for some users.
Some varieties of foam have heat traps.
Stomach sleepers find the loft is too high.
Above average appeal, weight up to 4.5 pounds.
7. Microbeads Pillows
Microbeads pillows use microbeads that are made of lightweight polystyrene foam (usually known as Styrofoam™), typically found in beanbags, but smaller. These pillows are great for support and conforming to your head and neck providing therapeutic results.. They are helpful in preventing shoulder and neck pain keeping the spine aligned. They provide good airflow and do not get warm from your body heat. Most people using these pillows favor the microbeads for comfort and pain issues. The beads are put into the casing that is of an elastic and soft fabric.
Pros
Side and back sleepers like the comfort.
Hypoallergenic; no mold, mildew, bacteria, or virus growth; microbeads not eaten by dust mites.
Lightweight at about two pounds.
Air circulation is good with microbeads; pillows stay cool.
Beads do not clump or shift.
Cons
Some think these pillows are too firm, especially stomach sleepers.
Durability and life expectancy is uncertain; cannot wash in the clothes washer.
People either love or hate them.
One level of medium to firm; not able to cuddle.
Some prefer more loft.
8. Polyester Pillows
Polyester pillows are a synthetic material used in pillows appropriate for any sleep position. They are easy to care for with a small amount of new pillow odor. Relieves sore aching muscles and stiff neck.
Pros
Inexpensive; easy to care for.
Hypoallergenic fiber.
Back and side sleepers like these pillows.
When loft is low, stomach sleepers will be happy.
Polyester can be cleaned in the clothes washer and they dry fast.
Cons
Contents might shift with progressive hollow areas; can become lumpy.
Durability and neck support is fair.
Pillows will eventually flatten; average durability and lifespan.
Pain relief is average for shoulders and neck.
Clumpy and lumpy over time.
9. Water Pillows
Water pillows will give your high neck and shoulder pain assistance. They provide contouring support and the loft and firmness can be adjusted for your needs. The pillow with a 5-quart water capacity base has a polyester layer for comfort. You will need to adjust the water level inside for your preferred loft and firmness levels.
Pros
Minimal heat retention and initial odor; side and back sleepers have support.
Breaking in the pillow only takes about 3 nights to find your comfort level.
The water pillow is good for larger users because of the loft customization.
Less neck and back pain experienced by 30% of users; improves sleep quality.
Maintains its support through the night and water adjusts to provide neck, head, and back support as you move.
Cons
The pillow is heavy when filled with water.
Water noise and water leakage are conceivable.
Can weigh up to 10 pounds when filled with water.
Stomach sleepers find these too thick even with a low water level.
The polyester layer can clump and flatten.