Many of us know someone who suffers from chronic pain, and as such, you may want to consider some pain-relieving gift ideas this holiday. Living with constant chronic pain is a life-changing condition that may seriously hamper the sufferer's quality of life. No one likes to see a loved one in pain, and gift ideas to help alleviate the symptoms may make a big difference to their lives.
It's a shocking statistic, but over 100 million Americans suffer from chronic pain with a cost of around $600 billion a year in medical treatments. Chronic pain may hamper an individual's capability to live a normal, productive life. Consequently, if you know someone who suffers from a painful condition, why not choose some thoughtful gift ideas to improve their quality of life?
Recommended Read: Stop Telling Me I Need Essential Oils… Gimme A TENS Unit!
Gift Ideas for Chronic Pain Sufferers
Chronic pain may result from a variety of medical conditions such as joint degeneration, autoimmune disorders, and, most commonly, back and neck problems. Arthritis, gastrointestinal diseases, and neuropathy result in chronic pain, which may seriously impede everyday life. Anything that you may do to help reduce painful symptoms makes a big difference in a sufferer's life.
Gift ideas for chronic pain sufferers may have a significant impact on a person's day to day existence. The Maxkare electric heated blanket may help alleviate joint pain, while the Sunbeam Shiatsu heating and massage fanny pack are great for back conditions.
Suffers from knee pain and sciatica may feel a benefit from the Grassvery Memory Foam Knee Pillow, while the Sparthos Back Brace provides excellent support for the lower back.
Exercise for chronic pain sufferers
Gentle, regular exercise may help keep your body in shape and condition your muscles to combat chronic pain. It may feel counterintuitive to exercise when you suffer from such a condition. However, if you keep your body in reasonable shape, it may strengthen your muscles and bones to combat debilitating conditions better.
Books for chronic pain
When you think about gift ideas for chronic pain sufferers, books may offer inspiration for gentle exercises to help with painful conditions. Plus, books make perfect gift ideas for any time of the year.
Forever Painless by Miranda Esmonde-White instructs the reader on gentle exercises and stretches to help alleviate chronic pain. Pain-Free by Pete Egoscue offers advice and exercise solutions to help sufferers reduce lower back pain and sciatica symptoms.
Our Quest for Gift Ideas Dealing with Chronic Pain
We looked for products that demonstrated genuine benefits for pain sufferers. Consequently, our list contains only products displaying a good quantity of positive reviews. The end-user remains the most critical factor when using a product, and if it benefits the customer, it made our list of gift ideas.
Gift Ideas
Our list of gift ideas for chronic pain sufferers suggests several products that positively benefit the end-user. Finding the perfect gift may prove difficult for many, but a gift that helps alleviate constant pain is thoughtful and considerate.
MaxKare Electric Blanket Heated Throw
No products found.
No products found.
The Electric Blanket Heated Throw from MaxKare measures 50 inches by 60 inches. Constructed from soft, reversible Sherpa flannel, the blanket feels soft and plush against the skin.
The blanket generates a deep, soothing heat to penetrate joints and alleviate pain. With 3 heating levels, the blanket has a 4-hour auto-off function offering complete safety.
With soft, comforting fabric, the blanket benefits pain sufferers by warming the joints and muscles to soothe away any symptoms. And the blanket is machine washable and comes supplied with a long power cable.
Sunbeam Shiatsu Heating and Massage Pad
The Shiatsu Heating and Massage Pad from Sunbeam offers targeted treatment for pain relief. The device straps to the lower back to provide treatment to help alleviate back pain. The versatile device adjusts to suit your needs because it uses convenient adjustable straps.
The pad has three Shiatsu massage settings to soothe and relax the lower back area gently. Also, the three heat settings allow you to control the level of heat directed into your muscles. An auto-shutoff mechanism provides peace of mind and safety.
Heat and massage may prove beneficial to lower back pain sufferers, which makes this a perfect addition to our list of gift ideas.
GRASSVERY Memory Foam Knee Pillow
The Memory Foam Knee Pillow from GRASSVERY provides relief for back and hip pain. Sciatic sufferers may also find the pillow particularly beneficial to alleviate any painful symptoms.
The manufacturer creates the orthopedic pillow from premium memory foam with built-in cool gel technology. The gel helps keep your legs comfortable and cool. The molding qualities of the memory foam provide excellent support to your legs and knees, which may reduce pain in the lower back and sciatica nerve.
The pillow has a removable, washable case and a convenient zipper closure.
The pillow benefits derive from superior support to help align your spine and attain the correct posture when sleeping. So, the user may be less prone to backaches, sciatica, and joint stiffness.
Mueller Sport Care Adjustable Lumbar Back Brace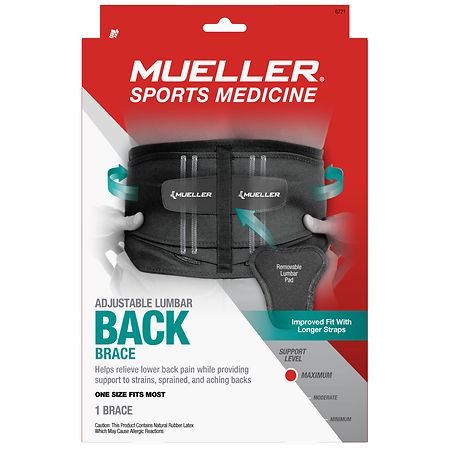 Mueller Sport Care Adjustable Lumbar Back Brace, Maximum Support
The Adjustable Lumbar Back Brace by Mueller Sport Care provides immediate relief from back pain, herniated discs, sciatica, and scoliosis. Wearing the brace while you walk, move, or stretch may help the wearer move freely while providing excellent support to the lower back area.
Mueller Sport Care design the brace with a breathable fabric and adjustable straps for maximum comfort.
A back-brace benefits those suffering from back pain by supporting the lower back and muscles. It is ideal for supporting your back when you perform a gentle exercise.
The Adjustable Lumbar Back Brace uses a breathable fabric for maximum comfort with a double layer design for an excellent fit.
TechWare Pro Ankle Brace Compression Sleeve
The Ankle Brace Compression Sleeve from TechWare Pro provides chronic pain relief from conditions such as Achilles tendonitis, joint pain, and arthritis. The compression sleeves provide a tight fit to improve blood circulation around tendons and muscles to reduce inflammation and painful symptoms.
The compression sleeves benefit those suffering from plantar fasciitis, and the therapy socks help with standing and walking pain.
The sleeves' design creates a comfortable, breathable fit made from 80 percent nylon and 20 percent spandex. And you can order your socks in various sizes.
Anyone suffering from chronic pain in the feet and legs may benefit from wearing compression socks. The extra support helps to strengthen muscles and tendons to make walking and standing less painful.
Everlasting Comfort Seat Cushion
The seat cushion from Everlasting Comfort is the perfect gift idea for office workers who suffer from chronic pain. Everlasting Comfort design their cushion to fit an office chair to provide excellent support for those suffering from painful sciatic pain symptoms.
The cushion's supportive nature derives from its memory foam construction to encourage and support the correct sitting posture. You can use the cushion at home or in a car when driving.
The advanced memory foam responds to your body's heat to mold itself to your shape and provide support. The U-shaped design hugs your figure to help alleviate painful symptoms caused by sciatica.
Sciatica nerve conditions cause severe chronic pain, and the Comfort Seat Cushion provides significant benefits for those suffering from the condition. By correcting your posture and supporting your body, the cushion may significantly help reduce the symptoms.
Only1MILLION Cervical Neck Traction Device
The Cervical Neck Traction Device from Only1MILLION provides instant support and relief for chronic neck pain. The inflatable neck brace helps your muscles relax while restoring the natural curvature of your spine.
The neck brace is lightweight and portable, which makes it incredibly versatile. It provides excellent support and provides relief for tension in your nerves and muscles. The inflatable nature of the device offers a firm yet comfortable fit.
Chronic pain sufferers with back and neck pain may find the neck brace particularly beneficial. Aligning your spine and neck into the correct position may help the sufferer alleviate painful symptoms and provide significant relief.
Belifu Dual Channel TENS EMS Unit
The Dual Channel TENS EMS Unit from Belifu provides pain relief therapy through the use of electronic pulses. The multi-functional TENS massager offers 24 preprogrammed massage modes to help with arthritis, knee pain, neck pain, back pain, and sciatica.
The TENS muscle stimulator may prove a powerful solution in the fight against chronic pain. The benefits derive from targeted muscle therapy, which may prove particularly effective for those unable to perform gentle exercises. The non-invasive, non-drug solution to pain management may revolutionize your day to day life.
The device provides 24 modes with 20 intensity levels for comprehensive treatment. It has a built-in rechargeable battery, which lasts up to 20 hours. And a convenient USB charger allows for portable versatility.
The device is stored in a handy drawstring bag and uses self-adhesive pads to help reduce cable tangling.
When you try to think of gift ideas for chronic pain sufferers, a TENS machine provides a beneficial and affordable solution. Targeting specific areas with this tried and tested device offers pain relief for various conditions to make a difference in someone's life.
Forever Painless: End Chronic Pain and Reclaim Your Life in 30 Minutes a Day
The book Forever Painless: End Chronic Pain and Reclaim Your Life in 30 Minutes a Day by Miranda Esmonde-White remains a strong contender in our gift ideas list for chronic pain sufferers.
The book provides a practical guide for gentle exercise who those who suffer from chronic pain issues. Moving the body is essential to keeping the body functioning, and gentle exercise may alleviate chronic pain symptoms.
The author provides detailed instructions for gentle exercise designed to ease discomfort in the feet, ankles, knees, hips, back, and neck. So, the book is suited to any age group wishing to live happier, healthier, pain-free lives.
Pain Free: A Revolutionary Method for Stopping Chronic Pain
The book Pain Free: A Revolutionary Method for Stopping Chronic Pain by Pete Egoscue claims to provide a revolutionary method for stopping chronic pain. The book covers gentle exercises and techniques to help relieve lower back pain symptoms, hip problems, sciatica, and arthritis.
Additionally, the author covers migraines and carpal tunnel syndrome to provide a comprehensive solution to chronic pain.
Using photographs and detailed instructions, Pete Egoscue guides the reader through a variety of exercises and movements to help the sufferer lead a pain-free life.
While it may seem counterintuitive to exercise when suffering from pain, regular movement, and exercise strengthens the body and muscles. When the body feels more vital, it may combat chronic pain symptoms more effectively.
Gift Ideas for Chronic Pain Sufferers Explored
Finding the perfect gift may sometimes prove a challenge, especially when you want the gift to feel meaningful and thoughtful. With the holidays fast approaching, you may find yourself looking for inspiration.
Many of us suffer from chronic pain, and it is a condition that affects our everyday lives to our detriment. Conditions such as sciatica, tendonitis, and back pain may significantly negatively impact our abilities to function. Anything we may do to help alleviate the symptoms is worthwhile.
Finding gift ideas for chronic pain sufferers may make all the difference. Presenting a loved one with a TENS machine to help target pain or a heated blanket to alleviate muscle and joint problems may make a massive difference to their quality of life. When you look for gift ideas, making a difference in how a person copes with pain means a great deal to the sufferer.
Recommended Read: Best Back Scratcher Options You Need To Check Out Today
Books giving instructions for gentle exercise and supportive neck braces or compression socks may allow a person to cope better with their pain. Therefore, when you think about gift ideas this holiday, why not go for something that may help make someone's life better?
Do you have experience with chronic pain? Perhaps you have a product you would like to add to this comprehensive list. Why not leave a comment in the space below and share your knowledge with us?
---
Featured Image by Porapak Apichodilok from Pexels
Author bio
Last update on 2023-02-08 at 23:35 / Affiliate links / Images from Amazon Product Advertising API