Combining a seat cushion for your bottom comfort with a lumbar back support cushion will provide you maximum soothing pain relief in chairs at home, the office, and when driving. You can purchase as one complete unit or as separate units.
[su_row]
[su_column size="1/3″]
[/su_column]
[su_column size="1/3″]
[/su_column]
[su_column size="1/3″]
[/su_column]
[/su_row]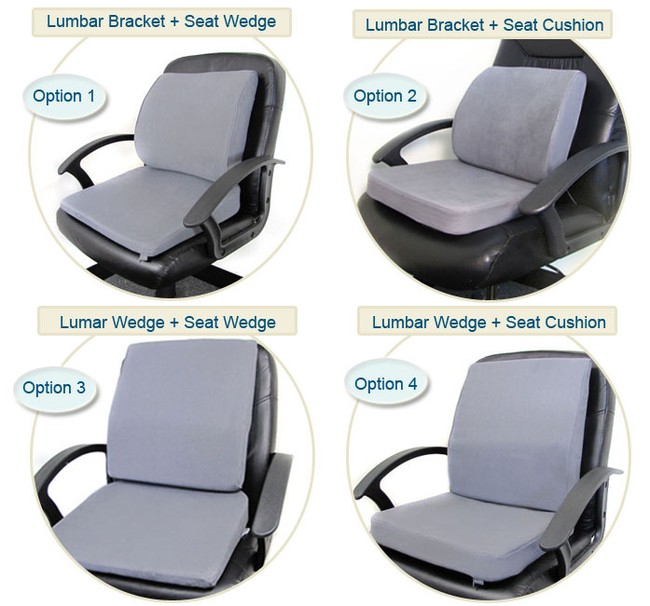 Lumbar support cushions are contoured to fit to your body's spine curvature naturally. That outward curve the cushion has presses into your spine's curve so that there is no space in between you and the cushion to provide supportive assistance to your back when sitting.
These are used by millions of people with their office chairs when sitting for hours, by people at home sitting on sofas or recliners, and when in bed reading or watching TV.
Typically, when your existing seating such as a sofa or recliner is soft to sit on, you will need a larger and thicker cushion for optimum support. Conversely, when your existing seat area is more firm, such as your office chair or car seats, you will not need a super firm support layer beneath you.
When you want the most comfortable seat anywhere, read about a variety of lumbar back support seat cushions for the many possibilities for your lifestyle be it your chairs, cars, or over the road truckers. Additionally, for sports events, sofa, recliner, and wheelchairs, see the best seat cushions for your bottom comfort.
1. How to Fit Support and Lumbar Cushions to Your Body
Fitting a bottom or lumbar support cushion for your body is similar to fitting a pair of shoes for your feet. Seat wedges and lumbar support cushions should fit your body and what you are doing. If you are tall and the seat cushion is thick, your head might touch the ceiling in your vehicle. You would want to consider your cushion height or you would need to lower your seat position in your vehicle. You will want to check the contour (shape) of your chair or seat to see if the shape of the cushion matches for the best fit.
2. Fit Your Work, Hobbies, Pastimes and Motion
Lumbar cushion support is better for sitting erect, straight, and vertical such as when keyboarding, driving, and simply relaxing in a favorite recliner or sofa. On the other hand, lumbar supports do not work well if you do things leaning forward. For this type of work, seat wedges work the best when you write, do crafts, eat, or typing if you bend over. Check your body to see how you sit for your specific undertakings day to day.
3. How to Fit Your Height and Weight
This is always an important consideration to achieve the best fit when choosing a cushion.
Short People—When your seat is too high with a seat cushion at home, or at the office, purchase an ergonomic footrest that moves back and forth to exercise your feet. Some come with small balls, so take off your shoes, and let the balls massage the bottoms of your feet while using your seat cushion. It works and is wonderful!
Use a thicker/deeper backrest cushion if your seat is too thick. If the top of the back of your chair comes forward, it will make your neck ache, such as overstuffed executive office chairs or airplane seats. Find a seat cushion to raise you above that inward protruding headrest—never understood those myself unless they are designed for very tall people.
Source: www.backdesigns.com

Tall People—When you are tall, your back lumbar support cushion will not work when you are taller than your car seat or chair. You can lower an office chair and usually your driver's side car seat to help the situation. If you have a low chair, you can raise it or use cushions. You can also adjust the height of your desk or work area.
Usually when you raise your car seat, you change your line of vision out of the windshield. Foot pedals might be a problem so you will need to move the seat forward. Moreover, as mentioned above, your head might hit the ceiling of the car known as the headliner.
Source: www.backdesigns.com

Lightweight People—If you are 120 pounds or less, you can chooser flatter and/or softer foam because that material will not flatten with your weight on it.
Heavyweight People—If you are over 250 pounds you will not be satisfied with a soft foam material because it will squash under your weight. For you, choose a material not of foam that is rigid and thicker.
How to Fit the Chair to You
Bucket Seats in Car—You cannot control how a bucket seat or captain's chair are made. They have a curve around your back and sides. The angle can be fitted with a cushion that has rounded sides. Some cushions are designed for bucket seats that will also fit a captain's chair. Be sure that the support bottom fits the chair or the bucket seat.
Office Chairs—The problem with office chairs is usually the space between the seat part and the backrest. Many times the straps will slip and shift as you move. The best remedy for this would be a seat cushion and back rest as a total unit.
Sofas, Love Seats, Overfilled Chairs—For these type pieces of furniture that are stuffed with foam and fabric, the best solution would be to purchase a much thicker back support cushion to augment the softness of larger overstuffed furniture. Office chairs and car seats are much firmer for support while household furniture is soft and cushy. For this problem, a thicker support will offset the soft or sagging seat cushion. Cushions with boards or frames would be beneficial for lumbar and back pain.
4. Fit to the Curvature of Your Spine
The angle of the chair seat's back is very important for consideration. It is more important than lumbar support to your lower back's curve. This means that if your chair height, seat, and back angles do not correspond to your body's shape and size, a back support will not adequately work.
Lumbar lower back supports fill the curve when you sit down. Lumbar cushions are designed to be placed with its thick part at your waist level to provide support to the top of the pelvis area that will then fit snugly and comfy in the curve of your lower back.
Round D-rolls are too big and bulky for car seats pushing you too far forward losing contact with your seat. The pressure in your back will be uncomfortable after time. Tapered shapes are better than the round or cylinder shaped rolls.
5. Summary for Back Supports
Everyone's backs are not the same. Everyone has different ways of standing, sitting, and walking known as posture. We are similar in that we sometimes have back pain from time to time. Conversely, others have chronic back pain continually. When your posture cannot be improved when getting up from your desk and moving around, or you have pain from simply sitting in the chair, seat cushions and lumbar back support can improve posture.
No matter what you consider buying, each design for back supports has benefits and shortcomings.
Less durable, foam back supports are portable to take with you, yet do not fit all types of chairs.
Rigid frames or interior boards are durable, are not as portable, and offer good support. They also fit more chair styles.
Always consult with your doctor or chiropractor if you do not find relief with cushions and lumbar back support. Be well and be pain free!