If you suffer from chronic or situational pain and do not want to take over-the-counter or prescription drugs to ease the pain, you are probably hoping for a more natural option such as a TENS unit. Fortunately, TENS units are widely available, and you can even get a TENS unit from Walmart.
The FDA approves TENS units to provide non-narcotic pain relief, and the units are an excellent addition to your arsenal of options to find relief from the pain that gets in the way of living your life.
TENS Unit at Walmart: Do They Work?
A transcutaneous electrical nerve stimulator (TENS) unit works by delivering electrical pulses through your skin. The electrical pulses trigger your body to release endorphins that disrupt the pain signals that travel to the brain.
You can use a TENS unit to help with chronic issues, including general muscle pain, arthritis, joint pain, and neuropathic pain.
Also, if you are recovering from an injury, you will find a TENS unit could be a great option to help heal without drugs. And you can use a TENS unit while resting or engaging in most activities.
If you see a physical therapist for chronic pain or after an injury, a TENS unit will likely be part of your treatment plan. Therefore, your physical therapist can advise you how and where to place your pads for optimal pain relief.
If you are not using a TENS unit during physical therapy, it is still alright to ask your physical therapist for advice on pad placement for your TENS unit.
However, it is easy enough to figure out where to place your pads.
Ideally, you surround your area of pain with the electrodes and either cross-crossing the channels or electrode lines, or you can keep the channels together on either side of the pain.
Options for a TENS Unit at Walmart
We went through the TENS Unit options available from Walmart and chose some of the most reliable and user-friendly options for you to consider.
Many of the units are similar, but while some features may seem inconsequential, they are actually beneficial.
For instance, many people are okay with coping with the wires that go along with a TENS unit, but others might need wireless options to suit their lifestyles better.
Easy@Home TENS Pulse Massage Unit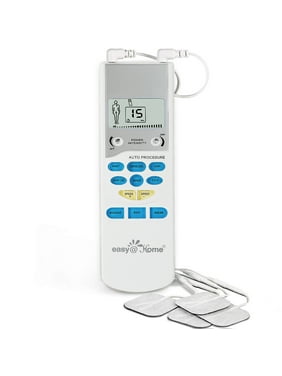 The Easy@Home TENS unit at Walmart is one of your options for stimulation.
This option includes six automatic options, but you can use it manually up to ten levels if you prefer to be in charge.
The automatic pre-set settings for whichever part of the body you are trying to relieve pain. For instance, there is a shoulder setting set to provide optimal relief for shoulder pain.
The manual setting has a knead, beat, and massage setting, as well. Also, the screen is large enough to see easily.
The unit requires AAA batteries, but they come along with your purchase. However, make sure you have some backup batteries, just in case. There is nothing worse than running out of battery power in the middle of a pain relief treatment.
The Easy@ Home TENS unit has two channels and a total of four electrode pads, which are included with this unit.
Easy@Home Rechargeable TENS Unit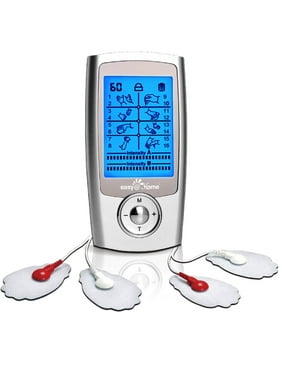 If you like what you saw with the previous TENS unit at Walmart, but need a higher intensity level, consider the rechargeable Easy@Home TENS Unit.
This particular unit has 16 different modes that you can adjust to 20 different levels of intensity.
Also, this unit is rechargeable, so you can set up your electrode pads and head out and do your business. This TENS unit is pocket-size at just shy of 4 inches by nearly two inches.
Also, the battery works up to ten hours before needing a recharge.
Since the unit is small, the manufacture made the entire screen a digital LCD with a thumb-size button for adjustment. The screen is easy to read, and the operation is intuitive.
You receive the unit and four electrode pads along with a USB charger and AC adapter.
Roscoe Medical TENS 7000
Roscoe Medical's TENS 7000 is a handy all-in-one option.
This dual-channel TENS unit uses the standard pigtail-style electrode pads. Also, you can use one or both of the channels, depending on which area you wish to deliver drug-free pain relief.
You will find this unit has five different custom modes that take the guesswork out of setting up your unit.
We can personally attest to the ease of use of this TENS unit, and we can tell you the interface is simple and it is straightforward to use.
Part of the screen is a digital LCD, while the control buttons are under a protective door.
You can adjust the intensity, select your mode, and close the cover.
This cover is helpful if you plan to be in motion while wearing the TENS unit because you do not worry if you accidentally bump the buttons and change your settings.
Also, this setup comes with a convenient carrying case with enough room to stash extra electrode pads.
AUVON Rechargeable TENS Unit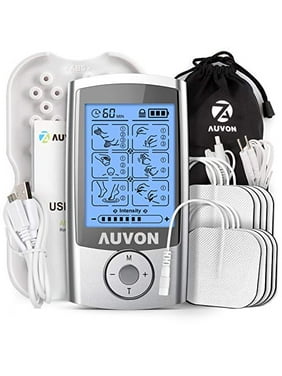 When looking for a TENS unit at Walmart, you are likely to come across the AUVON TENS unit.
This TENS unit is rechargeable, and the charge lasts for 10 hours.
Also, there are 16 options of pre-set modes that deliver pain relief. However, if you prefer to control the settings, you can do that, as well.
Plus, you receive the TENS unit, the cords and electrode wires you would expect, eight square reusable pads, and a carrying bag.
The interface of this unit is a large LCD screen that takes up most of this pocket-size device. Also, there is a user-friendly round button at the bottom to control the unit.
If you need replacement pads, this option of TENS units uses the standard pigtail connectors for the pads, which means the current is more stable.
Belmint TENS Unit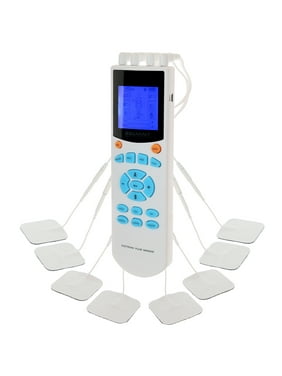 Belmint's TENS Unit is an ultra-lightweight and easy-to-use TENS unit to consider.
This unit is unique because of its versatility. It comes with four sets of lead wires and eight pairs of pads.
The extra leads and pads mean you can use this on two different areas of your body at the same time. Also, you could share the use of the TENS unit with someone else simultaneously.
The screen is an easy-to-read LCD screen with well-labeled buttons to make any changes.
There are three different massage modes, including kneading, massage, and beat.
You can use the timer option to set your sessions anywhere from 10 to 60 minutes. Also, pre-programmed modes are designated for specific body parts if you do not want to choose your own settings.
MedZone Wireless TENS Unit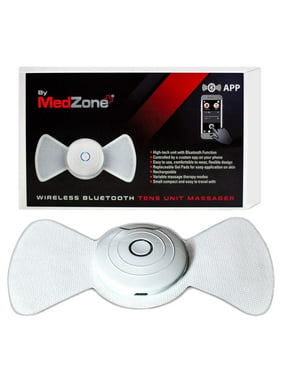 The MedZone TENS unit is a unique option of the available TENS units at Walmart.
This unit is wireless and works via Bluetooth. The wireless option is beneficial for those who like to use their TENS unit on the go.
The company has an app that you use to control the unit's intensity along with the mode of massage.
Each mode's design is for a specific body part in mind, and the unit comes with a diagram that helps you know exactly where to place the pad to receive optimal relief from pain.
The pads are different than what you have seen from other TENS units. The pads for the MedZone TENS unit are shaped like a bowtie, and you only use one pad at a time.
Easy@Home Rechargeable Compact Wireless TENS Unit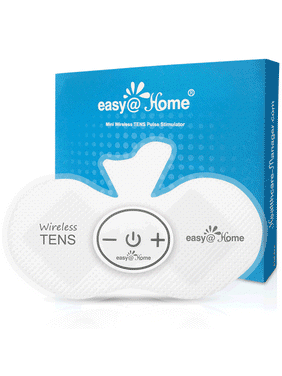 If you like the idea of the previous TENS unit but are not a fan of using an app to control the unit, you might like the Easy@Home Compact Wireless TENS Unit.
This unit has a rechargeable lithium battery. Also, this unit works by having a disk attached to the pad with an easy-to-use control button.
The control button's center is the power, and you control the intensity of the current by pressing the +/- buttons on either side of the power button.
The pad itself is three inches wide and six and a half inches long. Also, the pad itself is flexible and sticky enough to reuse.
Plus, because this uses no lead wires to a handheld control, you do not need to worry about the wires becoming tangled while you move around.
There are six different massage modes as well as up to 20 levels of intensity.
Ohuhu Rechargeable TENS Unit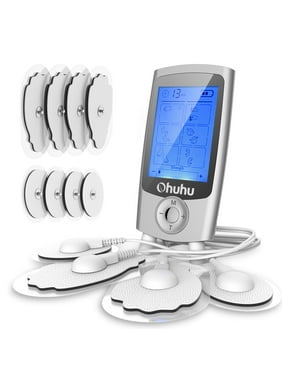 The Ohuhu Rechargeable TENS Unit is another unit from Walmart to consider.
Ohuhu's TENS unit has a touch screen for ease of use. Also, it includes 12 different massage modes, including 2 different foot reflexology settings.
There are two different independent channels so that you can work through pain over a large area of your body.
And you could share with someone else simultaneously or on two different parts of your body because of the dual-channel.
Also, you can fully control the time settings as well as the intensity.
If you want to be on the go, the unit is pocket-sized and includes a rechargeable battery, which will last you for ten hours on a single charge.
Plus, you can recharge the battery with a USB port.
Easy@Home Professional TENS Unit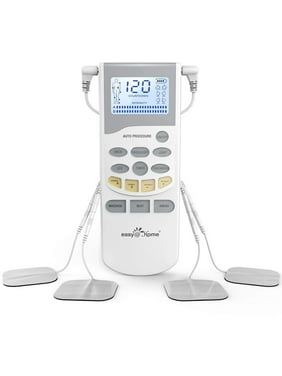 The Easy@Home professional unit is one to consider, as well. This unit is powerful with 20 levels of intensity, along with 5 pre-set massage settings and 3 different modes.
The unit has an LCD screen and easy-to-see buttons to control the modes, massage, time, and intensity.
There are two different channels to either cover a large area of your body or really target a specific area of pain.
The batteries are rechargeable lithium that you recharge with a USB cable. Otherwise, you can change with the DC cable. And the package comes with four reusable latex-free pads, although you can buy universal replacement pads.
Also, they include a one-year money-back guarantee or product replacement so you can give them a try without worrying.
TENS Unit at Walmart Accessories
Your TENS unit comes with everything you need to get started. Also, the electrode pads are good for several uses.
However, you will need to buy some accessories, especially since you are likely to realize how useful a TENS unit is.
TENS Unit Electrode Pads 2×2
You can buy universal replacement pads at Walmart, and LotFancy has a 40 pack of 2 square inch pads. This set of replacements is compatible with all units that use pigtail pin connectors, most of which are TENS units.
This set is latex-free, and the adhesive is sticky enough to be reusable several times.
TENS Unit Electrode Pads 2×4
Discount TENS has a 20 pack of 2×4 replacement pads. However, you can buy a set of 8 or go up to a pack of 40 if you wish.
They work the same way as the 2×2 pads we just discussed, but these cover a little more ground. If you find you have a larger area of pain, these larger pads are lifesaving.
Many TENS unit users have both sizes on the ready, just in case.
Pain, Pain, Go Away
Finding a TENS unit at Walmart is easy as can be. The units are widely available, and there are several from which to choose.
TENS units work by sending a current through the skin. In turn, the current gets the endorphins going, which then blocks the pain signals that travel to your brain.
A TENS unit works for chronic pain as well as recovery from injuries. Also, you can use a TENS unit while engaging in an activity or while resting.
Which TENS unit did you find?