The healing power of a massage can be a powerful fix to a multitude of ailments. From muscle tension to stress and anxiety, a quality message can be an ideal option for those looking for better health without adding new medications. Fortunately, these days message therapy is more available than it has ever been with subscription massage services and even apps created specifically to bring massage therapists into private homes. Whether you're a massage professional or just a pro at getting massages, a portable massage chair could be a perfect addition to your home.
For this article, we reviewed four of the leading portable massage chairs available on the market. We considered several factors in our review including price, ease of use, design quality and warranty. Also, we broke down the pros and cons of each chair to give a quick reference for each product. We based our ratings on a five-star system, with five being the highest rating.
---
---
Portable massage Chair
Pros & Cons
---
---
Portable Massage Chair
What is a Portable Massage Chair?
A portable massage chair is a smaller, lighter and more packable version of the tables used by professionals in a massage studio. These chairs are like a massage table in that they support a person face down during the massage. They differ, however, because most portable massage chairs support a person in an upright, seated position as opposed to lying prone or on their back.
The other major difference between massage chairs and tables is portability. Massage chairs are often collapsible and therapists therefore commonly use them while working in smaller spaces. You've probably seen them in places like shopping malls, airports, or special events like marathons or festivals. Unlike massage tables, these chairs can provide relaxation and support without the need to lie down.
Product Specs of Portable Massage Chair
The massage chairs in our review all have the same general functionality but differ in specifications like weight, user size, cushion thickness, build materials and packability. All the chairs we reviewed use a combination of aluminum framing under a leather-like polyurethane covering. They differ vastly, however, in carrying weight and load capacity. The lightest of our selections came in at around 15 pounds while the heaviest tipped the scales at over 25 pounds. As for load capacity, most of the portable massage chairs we considered can hold around 300 pounds, with the lowest range at around 250 lbs and the highest at over 2,000 lbs.
Portability and carrying options mark another key difference between these chairs. All four in our review include packing functions including padded straps, simple carry bags and more advanced carrying cases with wheels and backpack straps. Each chair also has slightly different assembly features, but all are simple and easy to operate.
Pricing of Portable Massage Chair
The massage chairs we reviewed cover a range of prices from under $100 on the low end to nearly $400 on the high end. Each of these massage chairs is available through a variety of retailers including amazon.com, walmart.com and direct through some manufacturers.
We found that the higher end portable massage chairs had a greater weight threshold with a lower carrying weight. The higher priced chairs also included premium components like higher quality fabrics, thicker cushioning and more adjustable ergonomics. For such a wide price range though, we found that the highest price didn't always mean the best value. If you're willing to forgo a few premium features or add a few pounds of carrying weight the lower cost chairs could be a nice fit. On the hand, a higher-end, lightweight chair with deluxe features could be the right choice for a professional massage therapist on the go.
Portable Massage Chair: Products We Reviewed
Here are the products on the market that we compared:
STRONGLITE Ergo Pro II Massage Chair
Master Massage Professional Portable Massage Chair
Earthlite Vortex Portable Massage Chair
Best Choice Products Folding Portable Light Weight Massage Therapy Chair
STRONGLITE Ergo Pro II Portable Massage Chair
The STRONGLITE Ergo Pro II marks the highest end chair in our review. It weighs a modest 19 pounds and holds an impressive 1,200 pounds of static weight. The working weight of this unit is 600 pounds, which is amongst the highest in the group and it boasts the widest array of ergonomic adjustments of any chair we reviewed.
This is a professional quality chair, and it can accommodate users as small as 4' 6" and as a large as 6' 6". The high-end carry case boasts paddled shoulder straps and wheels for easy transport. It's the most expensive unit of the bunch, coming in at nearly $400, but the cost could be worth it to a pro in search of a lightweight and versatile massage chair.
Ease of Use - 3
Th Ergo Pro II has a lot of ergonomic options, but some users could find them over-complicated.
Assembly Time - 4
This chair transports easily, and the decreased weight makes it easy to manage each component.
Design Quality - 5
With a low carry weight and high load capacity, this chair is hugely versatile.
Warranty - 5
This chair includes a limited lifetime warranty against manufacturing defects.
Master Massage Professional Portable Massage Chair
The Master Massage Professional chair is crafted from aircraft aluminum, giving it superb strength for its weight. This chair comes in at only 16.5 pounds but can support an impressive 650 pounds of working weight. The frame is super tough and finished with an electrostatically powder coated finish making it near impervious to nicks and dings. This chair comes with a rolling carry case with extra storage pockets. The case coupled with the lightweight, tough design make this another great choice for a professional massage therapist looking for a top-end chair.
Ease of Use - 4
This chair is simple to use with a travel case and lots of storage pockets.
Assembly Time - 3
Like the Ergo Pro, this chair is simple to set up but may take longer than some of its simpler peers.
Design Quality - 5
The aircraft aluminum body and powder coat finish make this chair sleek and tough as nails.
Warranty - 5
Master backs this chair with a 5-year warranty.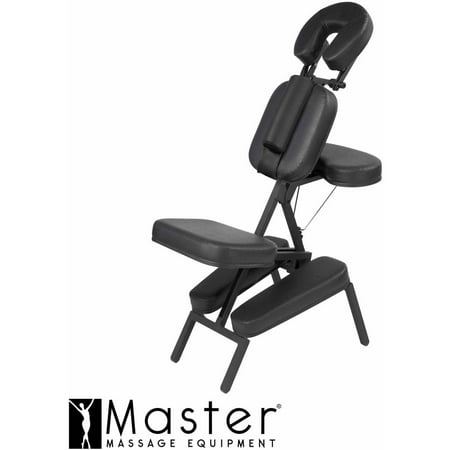 Buy from Walmart
Pros
Lightweight and strong frame
The high-quality finish will take a beating
Pro-grade portable massage with a slightly lower cost
Cons
No free shipping
May not be as comfortable for taller users
The higher price may discourage non-professionals
Earthlite Vortex Massage Chair
The Earthlite Vortex massage chair is the lightest in our review, weighing in at only 15 pounds. This is a full 1.5 lighter than the next closest competition, the Master Professional. Much of the weight savings on this chair comes from the frame's innovative oval tube design.
The Vortex still has a reasonable working weight of 300 pounds and has a simple design that is easy to assemble and set up. Unlike some other chairs, this does not include a rolling carry case, but the lower weight still makes this chair easy to move around. It has all vinyl pads that are easy to maintain and clean. The Vortex is a simpler chair than some of its peers in the higher-end category, but it could be a good choice for someone who travels a lot and needs an ultralight option
Ease of Use - 5
The Vortex has just a few simple adjustments that work for a range of sizes and shapes.
Assembly Time - 4
Compared to the other higher-priced chairs we reviewed this is simple to set up.
Design Quality - 5
The curved oval tubes on the Vortex's frame make it both aesthetically pleasing and nice to handle.
Warranty - 5
They cover this chair with a 5-year warranty on the frame and 3-year warranty on the upholstery and cushions.
Sale
EARTHLITE Portable Massage Chair Package VORTEX - Portable, Compact,...
COMPLETE PORTABLE MASSAGE CHAIR PACKAGE: Includes EARTHLITE Vortex Chair, Rugged Nylon Carry Case,...
TRAVELS EASILY, LIGHTEST CHAIR ON THE MARKET: Only 15 lbs! The innovative oval frame is forged from...
INCREDIBLY COMFORTABLE: The EARTHLITE Vortex Massage Chair is upholstered with high quality, dual...
Pros
Extremely lightweight
Stylish and functional oval tube design
Simple to adjust and set up
Cons
Lower working weight capacity than other higher-cost chairs
No wheels on the carry bag
Some inconsistencies in stitchwork
Best Choice Products Folding Portable Light Weight Massage Therapy Chair
The Best Choice Products foldable massage chair is a good quality unit at an affordable price. The chair comes in at just under $90, making it a good choice for the hobbyist or someone looking to make it easy on their visiting massage therapist. This is a no-frills chair compared to the more expensive units we reviewed, but it's not far out of their performance range. It has a carry weight of 20 pounds and a working capacity of 350 pounds.
For such significant price savings, this isn't much heavier than the STRONGLITE (19 pounds) and has a better working weight capacity than the Earthlite. The carrying for this unit could be a struggle for some users as it has neither wheels nor padded shoulder straps. While it might not be great for hauling around, it could be a nice beginner massage chair for an up-and-comer.
Ease of Use - 3
It's slightly heavier than some peers, which could make set up unwieldy for some users.
Assembly Time - 4
There aren't many bells and whistles here, and that helps with a quick assembly.
Design Quality - 4
Despite the comparatively higher weight, this chair has a competitive design with higher priced chairs.
Warranty - 1
Despite significant digging, we couldn't find any information about a warranty from Best Choice Products.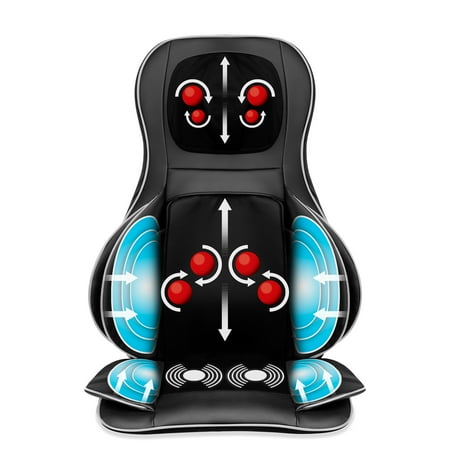 Buy on Walmart.com
Pros
Cons
Warranty information is unclear
Less adjustable than some competitors
The plain aesthetic that some might find boring
Conclusion
Choosing to get a massage should be a treat that benefits the mind and body. Choosing to buy a portable massage chair, however, shouldn't leave you with a headache. Though there are many options with assorted features and price points out there, the decision really comes down to how you plan to use the chair and how much you are willing to spend. For professionals, it's probably worth $300 or more to get a lightweight, portable and feature-packed chair like the STRONGLITE or the Vortex. A higher-end chair may even be worth the cost for a home massage patient who relies heavily on treatments for a chronic condition. With that said, the comparative quality and low cost of Best Choice Products impressed us.
Top Choice
Our top choice was the Earthlite Vortex massage chair. The Vortex is a higher-cost chair, but the quality, features, and design are well worth the price. The biggest benefit of this chair is the weight. At only 15 pounds, this chair can easily move from client to client, or simply from one room to the next in a home. The oval tube design in this chair not only makes it lighter but also makes it a piece of furniture you might not need to break down and stash when guests head over.
We were also impressed with the chair's impressive warranty, which covers five years of defects on the frame and a separate three years for the padding and upholstery. This peace of mind could be a real benefit to professionals who are using the chair frequently. The Earthlite Vortex chair is a unit that could easily serve a professional unit or a home care product, and we think its versatility and good looks are worth extra money.
Last update on 2023-03-07 at 03:25 / Affiliate links / Images from Amazon Product Advertising API